Bays and anchorages Menorca
28. March 2019
2023-10-30 12:16
Bays and anchorages Menorca
Menorca

Bays and anchorages
BAYS AND ANCHORAGES IN MENORCA
Menorca is the most easterly and northerly island of the Balearic Islands and is therefore affected by easterly and northerly winds, especially mistral. The island can be sailed around all year round, but the main charter season is from April to October. Those who appreciate the originality of the Balearic sailing area are in good hands on the island of Menorca. You can expect a rugged north coast with some bizarre bays and crystal clear water, long beaches with fine white sand, lush green pine forests framed by steep cliffs, a landscape of white houses, stone-walled fields and pretty, picturesque fishing villages. Here you experience the quiet side of the Balearics and it becomes clear why many individualists and dropouts have settled on the island.
There are two safe harbours on the island of Menorca that can be used at night and in all weathers: The capital Mahón in the east and Ciutadella in the west. Even in the high season, you can easily get guest berths. In good weather, you can also anchor in some bays, which can also serve as overnight accommodation. Menorca can be circumnavigated in about 85 nautical miles and there are more than a thousand official moorings. The north coast of Menorca can be a rough sailing area due to the mistral, but the south coast is usually calmer.
Do not hesitate to contact us, we at Marina Balear are happy to help you plan your trip.
Cala Addaia
This bay resembles the mouth of a river, situated between pines and rocks, therefore a safe shelter in any weather and sea state. There is also a small yacht harbour, some buoys and anchorages. The beauty of the natural harbour attracts many sailors on their Menorca charter trip. South of the small Isla de sa Monas you will find the most beautiful and safest moorings.
Cala Arenal de Castell
Well protected bay. Here you anchor on sand and seaweed, at a depth of about 5 metres. There are several restaurants and a supermarket in the resort.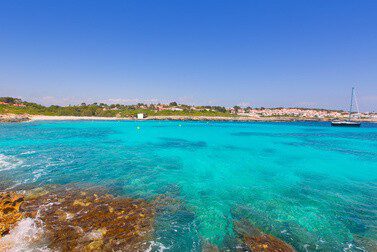 Cala Binibeca
A very popular bay with a sandy beach and behind it are some holiday settlements. It is recommended to anchor a little outside, at a depth of 10 metres. There is a small, local yacht club that also rents out free buoys to guests. A bar is located at the jetty and a few restaurants and a supermarket can be found in the settlement.
Cala Canutells
Cala Canutells is a scenically beautiful bay on the south coast of Menorca. Here you can lie well protected. The best anchorage is in the middle of the bay with a sandy bottom and a depth of about 5 metres. There is also a private buoy field at the back of the bay. On land, you will find unpretentious restaurants, but they are only open during the summer months.
Cala Galdana
A dreamlike, 300-metre-wide bay with turquoise-green water, white sandy beach and green pine forests. It offers good shelter in offshore winds, but unfortunately too little space for more than a dozen yachts. Good anchoring possibilities in the eastern part of the bay on sandy ground at a depth of 5 to 4 metres. Very scenic, despite the hotel development.
Cala Macarella
The TOP BAY in Menorca, thanks to its beautiful scenery. Fantastic sandy beaches, crystal clear water and seclusion. The bay offers good protection from north and west winds as it is surrounded by high, light cliffs. It is recommended to anchor just before the bathing zone over sand with little sea grass and a depth of 6 to 4m. There is a beach bar ashore.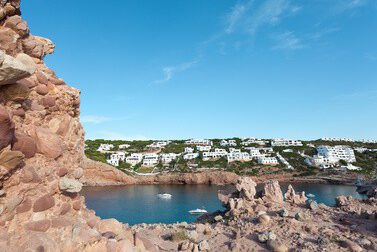 Cala Morell
A picturesque bay, well protected by reddish-brown and grey rocks, about 10 nautical miles from Ciutadella. It offers some protection against northerly winds. For anchoring, the western part of the bay is recommended on sandy ground. Please take care when entering, as you cannot immediately see the underwater rocks. There is a terrace restaurant ashore and a supermarket in the settlement.
Cala Olla
Bay with sandy beach and dunes. On land there is an apartment complex, a restaurant, a bar and a supermarket. The anchorage is sandy, the depth 6 to 4 metres.
Cala Santandria
A good alternative to the crowded port of Ciutadella. Optimal anchorages are in the back part of the bay, which is very well protected, also for overnight mooring. No shallows. Sand anchorage at a depth of 10 metres.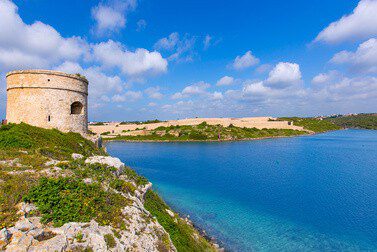 Cala Teulera
Opposite the harbour entrance to Mahón lies the small bay of Cala Teulera. It is particularly sheltered from the wind, so there are often many small boats moored. Most of the time, the small sandy beach is hardly visited, so it is perfect for sunbathing and swimming. The anchorage is sandy and offers good stability at a depth of 4 to 5 metres throughout the bay. Small boats find shelter even in strong winds from all directions.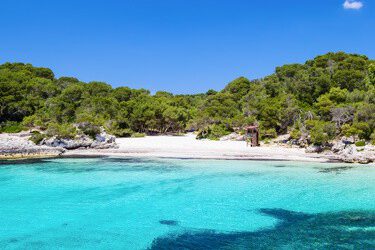 Cala Turqueta
Cala Turqueta welcomes you with a lively and natural beauty. The play of colours of deep green pine trees, light rock and rich sea blue creates a picturesque backdrop. You can moor comfortably at the buoy field without harming the seabed. In the high season, the buoy places are in great demand – accordingly, it can get crowded in the bay. Look forward to a day in a uniquely lively ambience in the midst of untouched nature.
Cala d'Algariens / Cala Fontanelles
A beautiful bay in the northwest of Menorca, which offers optimal anchoring possibilities for yachts in calm summer weather. The anchorage is sandy, with a depth of 6 to 3 metres. In summer, the bay is quite busy. Quieter moorings can be found in the neighbouring bay of Cala Fontanellas.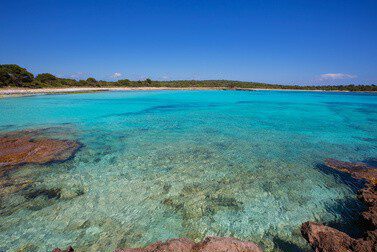 Cala de son Saura
A wide bay with shallow surroundings. Anchoring is possible just before the bathing zone on a bed of sea grass and sand, at a depth of 6 to 4 metres.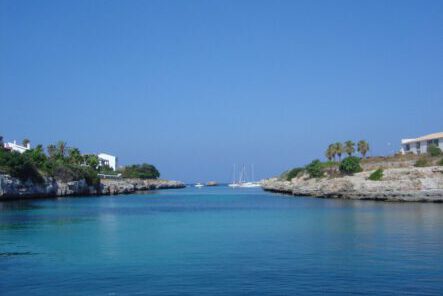 Cala des Degollador
Directly south of the harbour bay of Ciutadella. In the narrow inner part, you can anchor well with a shore line just before the bathing zone.
Cala en Porter
A deep bay between high cliffs. Anchoring is possible on the sandy bottom at a depth of 7 to 3 metres. Red buoys in the inner area on the east side indicate the places where anchoring is not allowed.
Cales Coves
Protected by cliffs, this bay is considered by many sailors to be one of the best and quietest bays in Menorca. Here you can enjoy seclusion, beautiful beaches and crystal clear waters. The anchorage is sandy with a depth of about 3 metres. Very popular for night anchoring.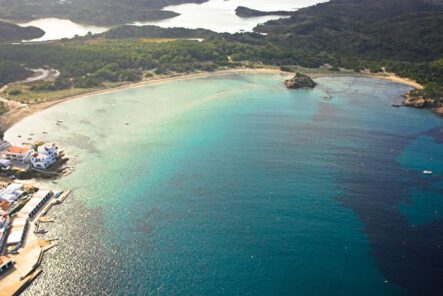 Isla Colom / Es Grau
Very popular anchorage with buoy field west of Isla Colom (more info under buoy fields in the Balearics). The passage between Isla Colom and Menorca is not suitable for keel yachts.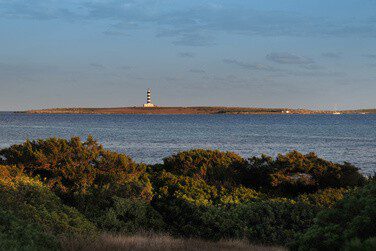 Isla del Aire
Translated: "Island of the winds" – as every stormy mistral shakes the local lighthouse. The anchorage is rocky ground with seaweed. There is also a dinghy mooring.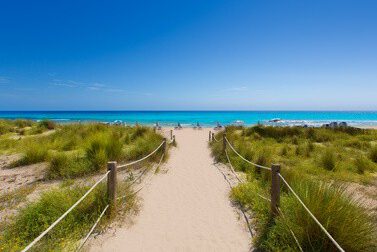 Son Bou
This popular Menorca resort offers yachting enthusiasts a great opportunity to anchor close to the beach. On land, a lively beach life awaits with bars and restaurants, while the warm sand invites family-friendly activities. The sandy bottom at a depth of 4 to 5 metres offers safe footing, especially in the western part of the cala. Please be considerate of the delicate marine ecosystem and do not anchor in seagrass beds.