Marina Botafoch
8. October 2021
2021-11-24 16:59
Marina Botafoch
On the north shore of Ibiza harbour, opposite the old port district, lies Marina Botafoch. The hip marina is a top port of call for anyone who wants to enjoy the glamour and lifestyle of Ibiza. With its large business zone and diverse yacht services, the port is ideal for longer stays in Ibiza.
SHOPPING
Many shopping opportunities for nautical supplies, as well as boutiques, jewellers and restaurants: in the Marina Botafoch shopping area, more than 60 shops and eateries are available to fulfil your heart's desire. A variety of fashion shops with typical Ibizan collections and boutiques for luxury items of all kinds are represented in the centre of Ibiza.
EVENTS
Silversmiths, jugglers and spice traders: anyone fascinated by the Dalt Vila will love the annual medieval festival in the fortified old town. Every May, the ancient fortress is transported back to bygone times for three days. Countless carnies in costume, street musicians and traders create a unique atmosphere of living history.
SIGHTSEEING AND ACTIVITIES
From Marina Botafoch, Ibiza's legendary nightlife is within reach. The city centre is just a few minutes' drive away. Our tip: Special water taxis take you comfortably by sea to the city centre. Once there, countless bars, nightclubs, galleries and more await you. Even a stroll along the harbour promenade is a real highlight: celebrities, trendy bars and some of the largest yachts in the world are not an uncommon sight on the way to the popular Talamanca beach. In the fortified old town, the Dalt Vila, you get an insight into Ibiza's history. The medieval World Heritage Site with centuries-old city walls, chapels and towers is still inhabited and can be explored – with sturdy footwear.
RESTAURANTS AND BARS
Along the picturesque harbour promenade and in Ibiza's lively old town, the choice is yours: with numerous nightclubs and upmarket restaurants, everyone will find something to their taste.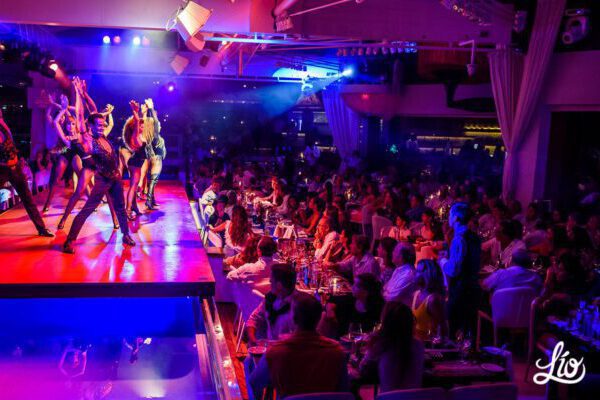 NIGHTCLUB LÍO IBIZA
Unforgettable club nights at Lío: from selected food and cabaret to top shows, entertainment at its best is on offer. Celebrity faces are not uncommon in the popular nightclub.
RESTAURANT PASSION
Healthy and delicious: Passion serves real energy wonders for lunch and dinner. Whether meat or fish, vegetarian or vegan: here you will find fresh, vitamin-rich dishes that will delight you. For refreshment in between, you can get a large selection of smoothies to go.
HARBOUR INFORMATION
Marina Botafoch
Paseo Marítimo
07800 Ibiza
info@botafocibiza.com
www.botafocibiza.com
Coordinates: 38°54,00'N 001°26,79'E
VHF channel: 09/16
VHF call: Marina Botafoch
IMPORTANT PHONE NUMBERS
Marina Botafoch: 971 312 231
FURTHER INFORMATION
428 berths between 6 and 30 metres
All berths with water, electricity and telephone lines
Dry dock
Petrol station
Direct line for diesel at all berths over 16 metres
WiFi in the harbour area
Weather news service