Porto Colom
7. October 2021
2021-11-24 17:00
Porto Colom
Harbour

Port de Portocolom
Peace and tranquillity in Mallorca's largest natural harbour: Port de Portocolom is located on the south-east coast of the island, far away from mass tourism. Instead of a pompous marina, the focus here is on the original character of the fishing harbour. The village of Portocolom offers the ideal antipole to the exciting and noisy Palma. Stroll along the picturesque fishing harbour or take a leisurely walk in the tranquil alleys of the old town and get to know the quiet side of Mallorca.
SHOPPING
The historic old town of Portocolom stretches around the harbour area. Here you can discover many unique souvenirs and Mallorcan fashion in small boutiques. The town of Felanitx, famous for its glass and ceramic products, is just a few minutes' drive away. Another highlight: the regional wines and spirits offered.
EVENTS
Live concerts, outdoor theatre and gastronomic events: the patron saint's festival of Sant Augustí in the municipality of Felanitx is celebrated for a fortnight every August. Every year brings new and exciting attractions: From the traditional fire run to the swell head parade, from the cake tasting to the big fireworks, the varied programme delights visitors from near and far.
SIGHTSEEING AND ACTIVITIES
In the vicinity of Portocolom you will find many great spots for sunbathing. Besides the picturesque Cala Marcal bay, two popular bathing beaches can be found opposite the harbour bay. Our tip for a day trip: the 14th century fortress ruin Castell de Santueri. On a clear day, it offers a spectacular view of the neighbouring islands of Menorca and Ibiza.
RESTAURANTS AND BARS
Nightlife in Portocolom is tranquil: here the emphasis lies on relaxation. Excellent restaurants and charming bars provide the perfect setting for cosy evenings in good company.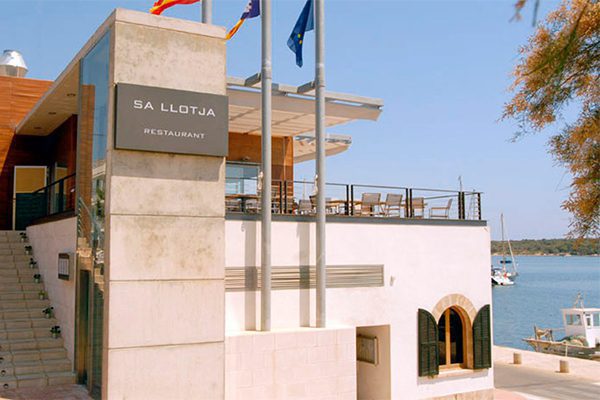 RESTAURANT SA LLOTJA
At Sa Llotja, the focus is on upscale, seasonal cuisine. Delicious Mallorcan menus are prepared from the best fresh seasonal ingredients – and served with a view of the gorgeous bay of Portocolom.
HARBOUR INFORMATION
Club Nàutic, Mallorca
Pescadors 23, 07670 Portocolom
administracio@cnportocolom.com
www.cnportocolom.com
Coordinates: 39°24,83'N 003°16,11'E
VHF channel: 09/16
VHF call: Club Nautic Porto Colom
IMPORTANT PHONE NUMBERS
Capitania Port de Porto Colom: 971-824683
Club Nàutic: 971-824658
IMPORTANT INFORMATION
Moorings for yachts up to 15 metres in length
Buoy fields
Water and electricity supply (subject to charges)
Petrol station
Repair service
Anchorages with sandy and seagrass grounds