Sant Antoni de Portmany
11. October 2021
2022-09-13 15:03
Sant Antoni de Portmany
Harbour

Sant Antoni de Portmany
Panoramic views, culinary delights and the magical nightlife of Ibiza: Port de Sant Antoni is considered one of the most popular places on the island. The central location at the pulse of the city tops the Sunset Strip with sunsets with soft beats from the clubs and bars. A visit to the world-famous clubbing hotspot belongs on the bucket list of every Ibiza vacationer. Club Nàutic in Sant Antoni offers 500 berths for yachts up to 50 meters in length. Booking makes sense in summer, but spontaneous yacht vacationers are also welcome at the marina.
SHOPPING
From the beautiful harbor promenade you can reach the center of Sant Antoni via the Passeig de ses Fonts. The latest fashion collections in the typical style of the island are offered alongside luxury items of all kinds. If you are looking for a special souvenir besides jewelry, spirits and watches, you will surely find it here. We recommend the regional products of Ibiza such as embroidered fabrics, leather goods and ceramics.
EVENTS
Ibiza has much more to offer than clubs and nightlife: Throughout October, the patron saint of the city is celebrated in the nearby municipality of San Rafael. Traditional dances and games, food events with typical island specialties, sports festivals and a folklore festival convey Ibiza's traditions with a lot of fun. Popular are also the performances of international DJs in the clubs of Sant Antoni.
SIGHTSEEING AND ACTIVITIES
Whether it's open-air concerts on the Passeig de ses Fonts or daytime clubbing at boat parties, there's always something going on in Sant Antoni. Top DJs attract countless guests from all over the world every day. Here are some of the best clubs on the island and a huge selection of bars and leisure amenities. If you want to relax during the day, steer your yacht to the dreamlike Cala Bassa. The popular beach with beach club is located in the southwest of the bay of Sant Antoni.
RESTAURANTS AND BARS
Thanks to the lively fishing and farming in the area, Sant Antoni delights your palate with natural, seasonal cuisine. Around the harbor street, top chefs create culinary delights from all over the world. Right in the marina, Es Nàutic awaits your visit.
RESTAURANT & LOUNGE BAR TAPAS
Tapas serves fresh fish, crunchy vegetables and succulent meat. The chef regularly delights his guests with new seasonal creations and sweet desserts.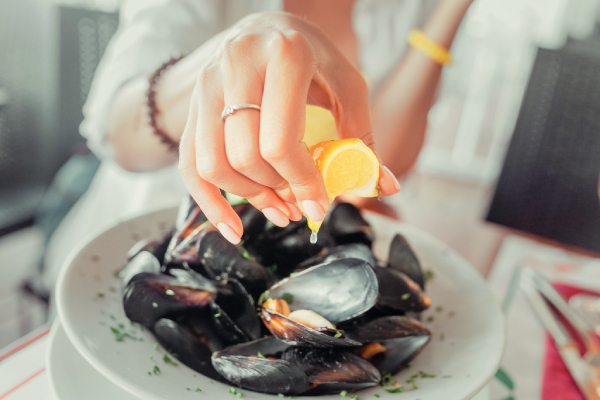 ES NÀUTIC
The marina's restaurant offers fine dining with a direct view of the marina. The decor is modern and understated. The focus is on the quality and presentation of the dishes. Add a refreshing drink and the evening is perfect.
HARBOUR INFORMATION
info@esnautic.com
reservas@esnautic.com
www.esnautic.com
www.amarreibiza.com
Coordinates: 38°58,46'N 001°17,76'E
VHF channel: 14
VHF call: Port Sant Antoni
IMPORTANT PHONE NUMBERS
Port de Sant Antoni: 971 340 503
Port de Sant Antoni Fax: 971 340 503
Police: 971 343 911
Doctor: 971 301 916
FURTHER INFORMATION
500 berths for yachts up to 50 metres long and 5 metres wide
Waiting list for guest places (reservation recommended)
Buoy field and moorings
Two petrol stations in the marina and on the outer pier
Tank extraction
WiFi in the harbour area